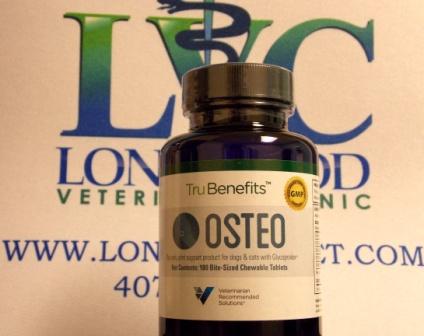 Osteo TruBenefits is a pure nutriceutical product containing Bioactive Glycoprolex, the only ingredient shown to protect joint cartilage. 
Derived from Green-Lipped Mussel Extract (GLME), Osteo TruBenefits provides:
• Better joint health and support
• Eases joint stiffness due to normal daily exercise and activity
• Helps maintain and support cartilage and connective tissue
• Enhances subchondral bone health
Using along essential Fatty Acids, like Omega Benefits, it enhances joint health from two different but complimentary mechanisms. 
Depending on your dog's size, one bottle may last you from 30 to 180 days. For cats, one bottle will protect their joints for a full year. 
Take advantage of this month's Special Offer and start your pets on the path to healthy and young joints.