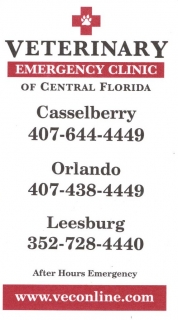 Following curfew recommendations from our county, we will remain closed on Friday the 7th. We are closing today, Thursday the 6th at 6 pm and plan to re-open on Saturday the 8th at 8 am. 
Should our plan change, we will keep you updated via Facebook. 
Central Florida Emergency Clinic will be opening at 6 pm today. Please keep the phone number for the emergency clinic (407-644-4449) easily accessible and visible on your pet's emergency kit.