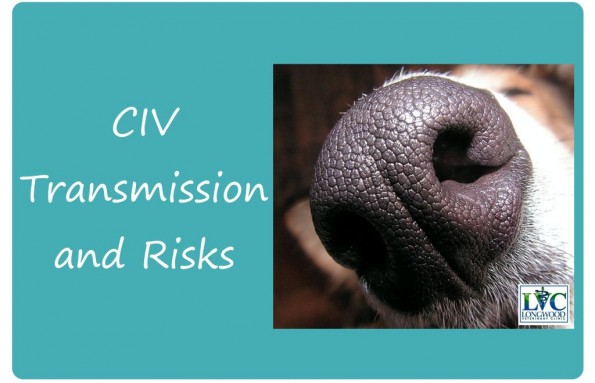 The risk of any dog being exposed to the canine influenza virus depends on that dog's lifestyle. Dogs that are frequently or regularly exposed to other dogs – for example at boarding or day care facilities, dog parks, grooming salons, or social events with other dogs present – are at greater risk of coming into contact with the virus. Also, as with other infectious diseases, extra precautions may be needed with puppies, elderly or pregnant dogs, and dogs that are immunocompromised. Dog owners should talk with their veterinarian to assess their dog's risk.
Because this is still an emerging disease and most dogs in the U.S. have not been exposed to it before, almost all unvaccinated dogs, regardless of breed or age, lack immunity to it and are susceptible to infection if exposed to the active virus. Virtually all dogs exposed to the virus become infected, and nearly 80% show clinical signs of disease, though most exhibit the mild form.
Fatal cases of pneumonia resulting from infection with canine influenza virus have been reported in dogs, but the fatality rate is low (less than 10%). Most dogs recover in 2-3 weeks.
Dog owners should be aware that any situation that brings dogs together increases the risk of spread of communicable illnesses. Good infection control practices can reduce that risk, so dog owners involved in shows, sports, or other activities with their dogs or who board their dogs at kennels should ask whether respiratory disease has been a problem there, and whether the facility has a plan for isolating dogs that develop respiratory disease and for notifying owners if their dogs have been exposed to dogs with respiratory disease.
Dogs infected with CIV are most contagious during the two- to four- day virus incubation period, when they shed the virus in their nasal secretions but do not show signs of illness. The virus is highly contagious and almost all unvaccinated dogs exposed to CIV will become infected.
To date, there is no evidence of transmission of canine influenza virus from dogs to people.
In early 2016, a group of cats in an Indiana shelter ​ were infected with H3N2 canine influenza (passed to them by infected dogs). The findings suggested that cat-to-cat transmission was possible. Cats infected with H3N2 canine influenza show symptoms of upper respiratory illness, including a runny nose, congestion, malaise, lip smacking and excessive salivation.