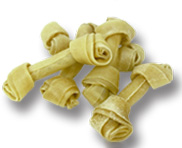 United Pet Group, a division of Spectrum Brands, Inc. is voluntarily recalling multiple brands of packages of rawhide dog chew products. The recall involves the brands:
American Beefhide
Digest-eeze
Healthy Hide
Healthy Hide Good-n-Fun
Healthy Hide Good-n-Fit
The recall was initiated after  United Pet Group identified that certain of its rawhide chew manufacturing facilities were using a quaternary ammonium compound mixture as a processing aid in the manufacturing of rawhide chews. The compound is an anti-microbial chemical that is approved for cleaning food processing equipment, but it has not been approved in the U.S. as a processing aid in the production of rawhide chews for dogs.
The primary complaint received from consumers was that the affected product had an unpleasant odor. Diarrhea and vomiting were also reported.
Exposure to quaternary ammonium compounds through direct ingestion may cause the following symptoms in dogs: reduced appetite, and gastric irritation including diarrhea and vomiting. These symptoms may require treatment by a veterinarian depending on severity.