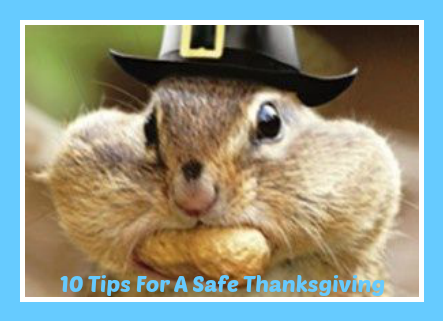 Whether you are hosting or traveling, check that your pet is wearing a collar and tag with your current contact information.
Update your pet's microchip. If your pet isn't microchipped, call us to make an appointment today!
If you are leaving town without your pet, use a good pet sitter or board your pets with us. Don't leave your pets alone for days – water bowls can spill and accidents can happen.
Explain to guests to be careful at doors. If your pet is a door dasher, keep him in another room while guests are coming in and out.
Make sure your pet gets his regular exercise and playtime whether with you or a pet sitter.
Keep toys and treats at hand when hosting guests to distract pets and reward good behavior.
Supervise all interactions between pets and kids for everyone's safety.
If you are hosting Thanksgiving guests, remind them not to feed your pet table scraps.
Have a counter-surfing pet? Ask a reliable guest to keep your pet occupied in another room during the cooking.
After the meal, remove all trash and bones immediately. Curious pets can cause themselves serious harm chewing on sharp bones!
Courtesy of Petfinder.com