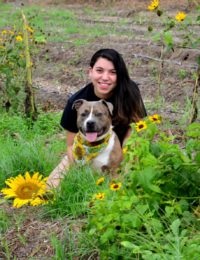 "I believe that animals were created to bring happiness into people's lives"
I am originally from Puyallup Washington and moved to Florida in 2014. I moved here with my mom, brother, and our 2 dogs. We always had pets in the house and bonding with them growing up was the best part. I started working with animals when I was just 14 years old and have been in the Veterinary industry since 2019. I graduated from high school and currently in school for Pre-Veterinary science . I hope to one day go to school to become an Exotic Veterinarian.
I currently live with my mom and my 3 dogs; Maverick, Frankie, and Edd who was brought to LVC as a stray in 2019. I also have an aquatic yellow belly turtle named Stevie and a Sulcata Tortoise named Tonka.
In my free time I love to play volleyball and take Maverick to the dog beach, even though he hates the waves.
I joined the veterinary industry because I love being able to help animals in need and be able to give them some ease at their visits. I originally was in Pet Care, but recently made the change to a technician. I love being at LVC and being able to treat every patient like family!