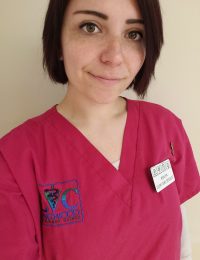 "I believe that every living thing, large and small, deserves a warm smile and a comforting pat."
You never know the difference you can make for pets and their parents just by comforting them. That's really the reason I decided I would get into the veterinary industry. This is the first time I've worked for a veterinarian, and I am just loving it! I had dogs and cats growing up and this is just a wonderful extension of all the love and comfort they gave me.
Originally from Slocomb Alabama, I moved to Florida in June of 2018. I received my Associates in Science from Wallace Community College in Alabama in 2013. I live with my sister Ariel Lee, her Toy Poodle, "Sophia" and my Akita/Lab mix, "Fenrir".