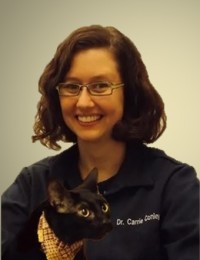 I'm a native Floridian that spent 10 years in the Midwest (Muncie, IN and Chicago, IL) enjoying the changing seasons, winter coats, and endless cornfields.
I returned to pursue a veterinary career, which is really just a continuation of all the animal-related jobs I held previously (dog walker, pet sitter, pet store employee).
I went to veterinary school at the wonderful University of Florida, putting that English major and linguistics Master's degree to excellent use, and am sorry to say that I never went to a football game my entire time there.
I'm very excited to have joined the excellent team at Longwood Veterinary Clinic where I look forward to coming to work and have the opportunity to practice high-quality medicine. LVC encourages a collaborative approach among the veterinarians when dealing with complicated cases, and I'm fortunate to work with a fantastic group of people.
Right now I have two cats, a dog, and two parrots.