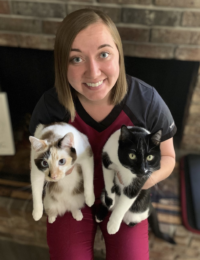 I graduated with my DVM from Washington State University College of Veterinary Medicine in Pullman, WA. As part of the WIMU program, I did my first two years of vet school at Utah State University School of Veterinary Medicine in Logan, UT.
Prior to vet school I got my Bachelor of Science in Animal Behavior and Biology from Southwestern University in Georgetown, TX.
I was born in Utah and lived in Evanston, Wyoming for 12 years before moving to Austin, Texas.
I met my husband while he was stationed at Fort Hood, TX, although he is originally from Port Richey, FL. He followed me to Utah and Washington for vet school, so after graduation we moved back to Florida to be closer to his family.
We moved here with our two kitties that we adopted in Utah – Dezirae (Dezi) and Danielle (Dani).