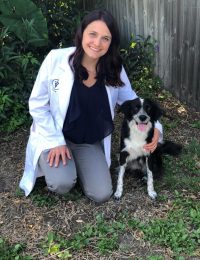 "I believe that animals play an essential part in our well being and happiness, and I like that I can help them as long as possible."
I am originally from Miami and have moved around some, but am back to my home state of Florida! I have had all kinds of pets growing up…including cats, hamsters, a mouse and fish.
I live with my 2 dogs, a beagle mix, Macie and a border collie mix, Bailey. While Macie prefers to just curl up on the couch with me, the always active Bailey loves agility training in our spare time and has been with me since my third year in Vet School. Both of them love our neighborhood walks and visiting our family any chance we get.
I graduated from the University of Florida (GO GATORS!!) and am also certified in Aquatic Animal Medicine. My particular interests of study are oral health care (dentistry), surgery, and aquatic medicine.
I love reading, photography, traveling, scuba diving, and visiting the local theme parks whenever I have the chance.