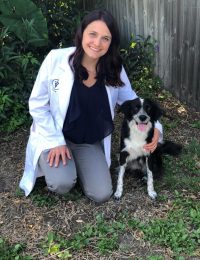 "I believe that animals play an essential part in our well being and happiness, and I like that I can help them as long as possible."
I am originally from Miami and have moved around some, but am back to my home state of Florida! I have had all kinds of pets growing up…including cats, hamsters, and fish.
Since I have very recently moved back to Florida, I am currently sharing space with my sister, brother-in-law, and niece. In my family, we have a Beagle, Macie and a cat, Magic. My faithful companion Bailey (the fabulous Border Collie) loves agility training in our spare time and has been with me since my third year in Vet School. We definitely have a full house!
I graduated from the University of Florida (GO GATORS!!) and am also certified in Aquatic Animal Medicine. My particular interests of study are oral health care (dentistry), surgery, and aquatic medicine.
I love reading, photography, traveling, scuba diving, and visiting the local theme parks whenever I have the chance.