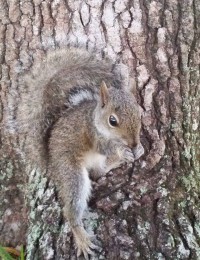 I fell out of my nest and was found in mid-November 2016 by 2 nice people who were walking by and saw me laying on the ground.  I was only 2 weeks old and couldn't care for myself. The nice people took me to LVC, where Jessica said she would bottle feed me until I was large enough to live on my own.
When I started to get a little stronger Jessica offered some yummy foods like apples and bread but my favorite food of all time is pecans.
Meatball was a very good friend to me as I was recovering and she would snuggle with me so I would feel safe.
After about 1 month, I was big enough to start to go outside. Jessica would take me outside for a little bit each day until I was comfortable. One day I felt very brave and I ran up a tree to the very top and from that day on I was a real squirrel and I met lots of nice squirrel friends.
Every morning I come down my tree and the nice girls at LVC feed me and my friends sunflower seeds and my favorite food,  pecans.