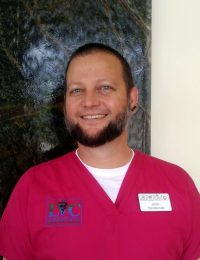 "I believe that animals are just like humans. They each have their own personalities (and superpowers) and they all deserve our love and compassion".
I grew up in South Florida and I can't remember a time when we didn't have animals in the house. We had multiple breeds of dogs, a cat and lots of reptiles. Currently, my husband and I share our home with our adorable Chihuahua named Bubble.
I have been in the veterinary industry since 2000 and started here at LVC in 2018. I started my career working with primates and eventually moved to small animal medicine. I have a special interest in small animal dentistry, which is my favorite part of being a Veterinary Technician for all these years.
LVC has a wonderful caring team of professionals that share my love and compassion for all animals.