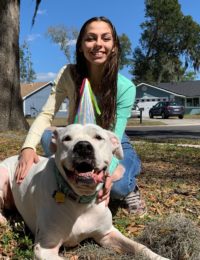 I believe that animals give us a purpose in life, someone to care for and love unconditionally.
I am originally from Pennsylvania and just recently moved to Florida with my sister. In my free time I love hiking with my boxer mix Axel, as well as painting and making art.
We have many different pets in our household! We have dogs, cats, ferrets, and a chameleon.
I have been in the veterinary field since 2021, and will soon be in school for pre-vet.
I love being a part of LVC for many reasons. I love the team I work with, and also the level of care we all have for the pets.
I knew I wanted to be a voice for animals. They cannot always tell us what they need, and it has always been important for me to be an advocate for them.
I have always had a passion for animals and love this field. Though one day, my dream is to have my own animal rescue.