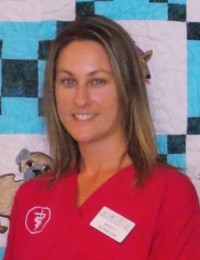 "I believe that pets are family and that is why every animal I encounter I treat as if they are my own".
I am from a small town in Iowa. I moved to Florida in 1993 with my mom and brother. I am married to my best friend and together we have a beautiful, funny, amazing daughter. We also share our home with our adopted, perfect Pit-bull mix named Bindi Boo.
I have been a Veterinary Technician at Longwood Veterinary Clinic since 2002. My favorite part of my job is educating clients on how to best care for their furry family members. I have a special interest in educating owners about arthritis and how we can help pets live longer, more comfortable lives. I also have a big soft spot for senior pets. Something about that grey muzzle is just so adorable to me.