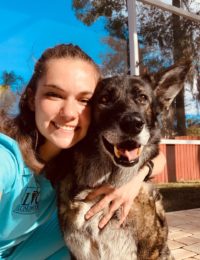 "I believe that animals deserve the same respect, love, and attention that we give to each other. I believe in second chances and never giving up on hope. This is what has drawn me to Longwood Veterinary Clinic".
Growing up I was always searching for critters, both big and small. I had everything from fish and snakes to chinchillas, rabbits and birds. Having so many different types of pets made me realize that I want to work with animals every day. I am currently attending UCF to pursue my goal of becoming a zoologist. With this degree, I plan on working at Busch Gardens to not only care for animals but to educate the public on the importance of preserving our environment.
In 2016, I was given the opportunity to work for LVC as a Pet Care Specialist. This position created personal connections with every "camper" and patient I interacted with. Those connections carried over to my current position as a Technician Assistant. I look forward to expanding my knowledge and skills with team members who share the same passion for animals that I have.