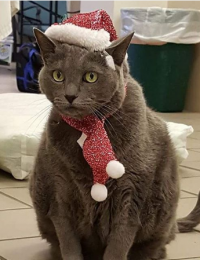 During the 2015 Holidays, this sweet cat came to us in desperate need of help. We were immediately committed to making her healthy again!
You see, Meatball did a bit of indulging during the holidays (and every other season for that matter) of her 11 years of life.
She became morbidly obese, barely able to walk or support all her weight. Even the basics of life, like using a litter box or lying on her side to sleep, became impossible for her.
We vowed to change her life and to hopefully inspire you to help your own fur baby.
Meatball started her journey weighing 27.6 lbs. Her goal weight is 12 to 14 lbs and we planned to get her there slowly and safely.
Her action plan has 3 approaches-
The right food : Hill's Metabolic Weight and Urinary care

The right amount of food: ¼ cup twice daily

Increased exercise
A few years have passed since we adopted Meatball and she breezed through her weight loss journey. As you can see by her old pictures, the changes are astonishing.
Weighing only 12 lbs., Meatball can now move freely, groom herself, climb on chairs; and her litterbox habits are no longer an issue. She made it to her goal and feeling better than ever.
We are very proud of this sassy girl. Keep up with her progress by following

@mighty_meatball

on Instagram.