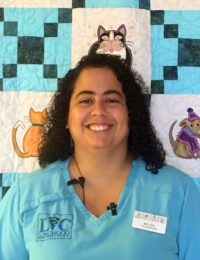 I believe in caring for others pets and loving them as my own.
I am from Puerto Rico and moved to Florida December 2019. Growing up we had many different animals. We had rabbits, chickens, and dogs, but I loved every animal that I met growing up.
I have been in the Veterinary industry since 2012. I have always had a passion for caring for animals, even when they were not my own. I got my bachelor's degree in Animal Science, and in 2012 started my journey as a technician.
I started working at LVC after moving here in December 2019. I moved here with my boyfriend, we share a torti cat named Ravenclaw, and a Chihuahua mix named Blondie.