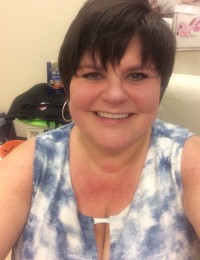 "I believe animals are here to help heal the human soul"
It was in eighth grade that I was trying to decide if I wanted to be a veterinarian or a counselor…well, I got my degree in drug and alcohol abuse (addictions) counseling, and here I am at a veterinary clinic! I guess that just goes to show how strong the pull has been for me to work with and help animals. Growing up on an acreage in Iowa I was fortunate to always have animals around me. We always had dogs, cats, and horses and of course, I would bring home the occasional wounded bird or injured lemming (a cute little rodent similar to a gerbil, but with a stubby tail). Animals were always there for me—sad times and happy times. I have always wanted to be able to give something back to them; I wanted to make sure that all those furry babies knew that I had the same loyalty to them as they had shown me over the years.
When I was finally old enough to move out of the family home, I got the first pet of my very own; an adorable mutt that I named Quigley. From there, well, let's just say Quigley had a whole lot of brothers and sisters—furry, feathered, and scaly. I am so fortunate that I have been able to spend my time with a great variety of rescued critters from dogs and cats, to birds, pigs (guinea and potbellied), skunks, sugar gliders, hamsters, iguanas, and turtles, to lemurs. I currently live with a dog named Widget, three cats Foozball, Poof!, and Audrey, two Macaws Cassie and Sam, a Yellow-Naped Amazon named Hank, a ring-tailed lemur named Natalee, Sheldon the Wallaby, and two crazy Kinkajou's named Karl and LooLoo.
I have worked at other veterinary clinics, but am so proud to be a member of the LVC family. I have been here since May of 1998, first at the front desk, then as practice manager since 2003. I am incredibly passionate about pets and maybe even more so about practice management. My first goal is to make sure that our clients are able to be with their furry kids for as long as possible and for those kids to be happy and healthy throughout their time with us. My next is to make sure that I am able to provide a warm, caring environment for our pet parents to bring those furry babies, so that they will receive the best possible care by a knowledgeable, sincere team of people who are passionate about keeping the human-animal bond strong and long-lasting. It is also a great passion of mine that I am able to provide a fun, team-focused, nurturing workplace for the people that I am fortunate enough to consider my extended family and spend my days with.