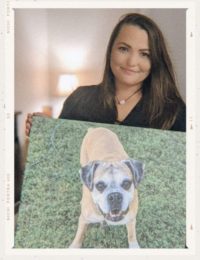 "I believe that an animal can also be your soul mate and I have found mine. It is the most wonderful feeling in the entire world."
I am originally from a small country outside of Russia and have lived in Virginia, Maine, Michigan and now Florida. My husband and I moved here to central Florida in 2020 with our pets.
We have a rescue dog named Peluche, a yellow cat named Kuno whom we've had since he was a small kitten, and a tuxedo kitten named Gus Gus who we rescued from one of our clients here.
Growing up, I always had dogs and/or cats as pets and would also often rescue and foster wild life animals such as piglets, multiple species of birds, squirrels, opossums as well as house pets; cats and dogs and bring them home to take care of, which is also why I got into this field and always come back to it, I love helping and healing animals. I have been in the Veterinary industry off and on since 2008. I used to professionally ride horses in shows and other friendly competitions and at times volunteered at the farms and/or stables.
During my free time, my husband and I enjoy going to the beach or exploring the sunshine state through hiking, kayaking, etc. We also enjoy staying at home with our pets or hanging out with our friends.