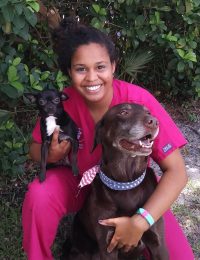 "I believe that animals are a reflection of love that permit healing, and in turn I must give my all to keep that pure love around."
I grew up in Sanford, Florida and have been in the Veterinary industry since 2016. I currently share my home with one rabbit, a little Chihuahua Jerome Tyquan, a chocolate lab Chloe Bell-Ann, and my kitty JC Moon.
My passion for animals deepens each day I am around them. My goal is to one day receive my DVM, but in the meantime I am pursuing my wildlife conservation degree and my bachelors in zoology.