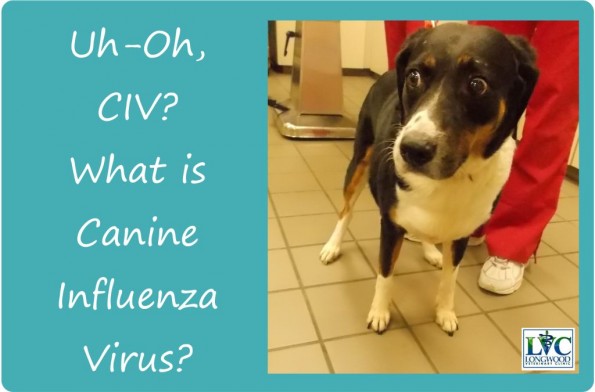 Canine influenza (CI), or dog flu, is a highly contagious respiratory infection of dogs that is caused by an influenza A virus. In the U.S., canine influenza has been caused by two influenza strains. The first strain reported in the United States, beginning in 2004, was an H3N8 influenza A virus. This strain is closely related to the virus that causes equine influenza, and it is thought that the equine influenza virus mutated to produce the canine strain.
The first recognized outbreak of canine influenza in the world is believed to have occurred in racing greyhounds in January 2004 at a track in Florida. From June to August of 2004, outbreaks of respiratory disease were reported at 14 tracks in 6 states (Alabama, Arkansas, Florida, Kansas, Texas, and West Virginia). Between January and May of 2005, outbreaks occurred at 20 tracks in 11 states (Arizona, Arkansas, Colorado, Florida, Iowa, Kansas, Massachusetts, Rhode Island, Texas, West Virginia, and Wisconsin). The canine influenza virus has been reported in at least 40 states and Washington, DC.
In 2015, an outbreak that started in Chicago was caused by a separate canine influenza virus, H3N2. The strain causing the 2015 outbreak was almost genetically identical to an H3N2 strain previously reported only in Asia – specifically, Korea, China and Thailand.  This H3N2 strain is believed to have resulted from the direct transfer of an avian influenza virus  – possibly from among viruses circulating in live bird markets – to dogs. Since March 2015, thousands of dogs have been confirmed positive for H3N2 canine influenza across the U.S.
Two clinical syndromes have been seen in dogs infected with the canine influenza virus—a mild form of the disease and a more severe form that is accompanied by pneumonia.
Mild form — Dogs suffering with the mild form of canine influenza develop a soft, moist cough that persists for 10 to 30 days. They may also be lethargic and have reduced appetite and a fever. Sneezing and discharge from the eyes and/or nose may also be observed. Some dogs have a dry cough similar to the traditional "kennel cough" caused by Bordetella bronchiseptica/parainfluenza virus complex. Dogs with the mild form of influenza may also have a thick nasal discharge, which is usually caused by a secondary bacterial infection.
Severe form — Dogs with the severe form of canine influenza develop high fevers (104ºF to 106ºF) and have clinical signs of pneumonia, such as increased respiratory rates and effort. Pneumonia may be due to a secondary bacterial infection.