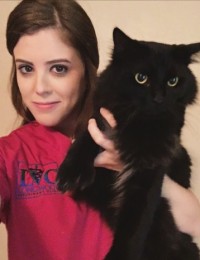 "I believe we need animals more than they need us. I believe we are their voice and are to treat them with the same love and compassion they wholeheartedly show us".
I grew up in Owensboro Kentucky, but when I was a teenager my family moved to Panama City Beach, Florida. I knew I wanted to pursue a career in veterinary medicine, so in 2014 I moved to Orlando to explore my opportunities. While searching for the right job, I was also volunteering at Clearwater Marine Aquarium in Tampa. I have a strong interest in Marine life but have always loved all animals, big and small.
I have a male cat Elliot, that I got when he was just a tiny kitten in 2015. He is a long haired black Hemingway, and the first cat I've ever owned. I also have Tegan, my female golden tabby main coon mix I adopted as a kitten from a client here at LVC in 2017.
I have been in the industry since 2014. After searching for the right Veterinary Clinic, I was lucky enough to become a part of LVC. I then became their office manager, which is where I realized my true my passion for educating clients and helping their pets.