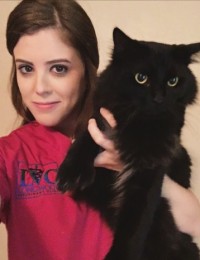 "I believe we need animals more than they need us. I believe we are their voice and are to treat them with the same love and compassion they wholeheartedly show us".
I grew up in Owensboro Kentucky, but when I was a teenager my family moved to Panama City Beach, Florida. I knew I wanted to pursue a career in veterinary medicine, so in 2014 I moved to Orlando to explore my opportunities. While searching for the right job, I was also volunteering at Clearwater Marine Aquarium in Tampa. I have a strong interest in Marine life but have always loved all animals, big and small.
My two cats have me in the palm of their hand. I have a male cat Elliot, that I rescued as a kitten in 2015. He is a long haired black Hemingway, and the first cat I've ever owned. I also have Tegan, my female golden tabby main coon mix I adopted as a kitten from a client here at LVC in 2017.
My partner and I also have a female yorkie named Jay. She was born in 2017, and is so sweet and playful. She loves car rides, dinner time, walks, and anything that squeaks! She is truly the best dog.
I have been in the industry since 2014. After searching for the right Veterinary Clinic, I was lucky enough to become a part of LVC. Shortly after, I became the Office Manager which is where I realized my true passion for educating clients and helping their pets. In October of 2021, I became the clinic's Practice Manager. In this role I knew I not only wanted to make a bigger impact by supporting the team, but our clients as well. It is my hope to ensure the best service and care to you and your pet.