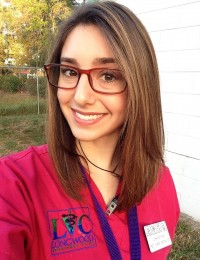 "I believe that we need animals in our lives just as much as they need us. I feel like they come to us for reasons we may not realize at first, and they make such a strong impact on our lives. Whether it's the best of times or the worst of times, our pets really steal our hearts"!
I am from Boca Raton and a native Floridian. I knew I loved animals since I was a toddler; I was that kid who always wanted to pet someone's dog and take trips to zoos and aquariums. It wasn't until I began college that I adopted my first pet, a 3-year old cat in dire need of a loving home. Then about two years ago, I also adopted a kitten, wandering the lonely streets of Orange Blossom Trail. The two of them are amazing (and quite hilarious), and I can safely say that they have opened my world to so much love and happiness! Because of them, I hold a very special place in my heart for cats, especially due to their quirkiness, sass, and mischief.
When I graduated college in 2014, I started on a path towards Veterinary Medicine. I ended up moving to Orlando and working with one of Disney's Pet Care facilities, where I learned more than I ever thought I would about animals and their behaviors. These experiences taught me how to understand animals by using their language instead of my own. That led me to develop an incredible passion for animal behavior, and a deep understanding of animals in general. I definitely feel as though there is a strong bond between humans and animals, and we can always learn and grow from them.
Longwood Veterinary Clinic has given me the opportunity to take care of some amazing pets, and we will continue to love and cherish every adorable face we see come through our doors!