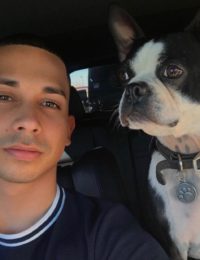 "I believe animals were brought into this world to show us the true meaning of unconditional love."
I am from New York but was raised in Puerto Rico. My neighborhood in Puerto Rico had a lot of stray cats and dogs that would stay close by. As a kid I always tried to look after them and cared for them as my own.
In 2018 I relocated to Florida after serving in the Army. I realized I wanted to find my way into the Veterinary industry, so I started working as a Veterinary Technician.
My partner and I have two dogs, Dora and Bleu. Dora is a Boston Terrier, born March 2020 and is a tiny ball of energy! She always keeps me on my toes. Bleu is also a Boston, born in 2015. He definitely keeps up with Dora and is a good big brother.
I have been with LVC since December 2019. One of the many things I love about this clinic is how the team works together. We utilize each other's talents to ensure we are giving the best care to every patient.