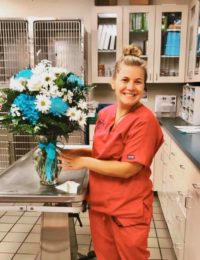 "I believe all animals deserve access to quality care and quality medicine. I believe animals do so much for us in our lives, and the least we can do is make sure they are happy and healthy".
I am originally from New Hampshire, and have been in Florida since 2018. I have three dogs that I adore! Baxter (my black lab mix), Bear (pitbull mix) and my newest addition Wally (also a pitbull mix). I have a strong interest and background caring for horses. One of my best pals is Sugar, my Tennessee Walker.
I have been in the industry since 2015, and graduated as a certified Veterinary Technician. I have been a team member of LVC since 2018, and am happy to have found such a caring and professional clinic.